Part 1 of a Two-Part Series
Have you ever heard someone joke that if they knew they'd have lived so long, they would have taken better care of themselves? As it turns out, this is no joke. Today's retirees tell us in no uncertain terms that the number-one ingredient for a happy retirement is, by no small margin, having your health. Sure, other things are important, like being financially secure and having a loving family and friends, but a new study reveals that health trumps all as the key factor to having a happy and satisfying retirement.
Figure 1: The most important ingredient for a happy retirement is…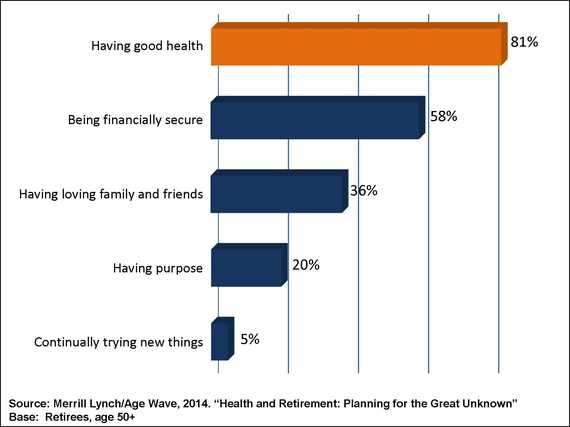 My firm, Age Wave, in partnership with Merrill Lynch, just completed a comprehensive new study titled Health and Retirement: Planning for the Great Unknown. We surveyed 3,300 pre-retirees and retirees nationwide–from all walks of life and socioeconomic strata–to uncover their concerns and worries about health and health care expenses in retirement. The study also revealed which steps you can take right now to make your retirement healthier and happier, with more financial security and greater peace of mind.
This article is the first of a two-part series that will explore some key findings from the full study report.
As Boomers Age, They'll Be VERY Demanding Health Care Consumers
This year, the youngest of the boomer generation are celebrating their 50th birthday, while the oldest, at age 68, are moving into what has traditionally been defined as the retirement years. When it comes to their health, the boomer generation, as a whole, has consistently been more proactive and demanding than their parents. Back in the 60s, boomers created the Boston Women's Health Collective and wrote Our Bodies, Ourselves, an ode to self-responsibility in health. And that was just the start.
During every stage of life, boomers have adopted a more holistic and empowered approach to health. For example, they catalyzed the fitness movement: in the 1960s, less than a quarter of adults exercised. By the 1980s, six in ten exercised regularly. By their early 30s, half of all boomers had used alternative/complementary medicine, such as acupuncture, chiropractic medicine, or herbal supplements. Fast forward to today and boomers are 30% more likely to use alternative/complementary medicine than the Silent Generation preceding them.
Boomers are also far more demanding in their relationship with health care professionals. For instance, they want their doctors to pay attention to their minds as well as their bodies. The overwhelming majority (95%) say it's reasonable to expect their doctors to ask them about their fears and concerns (only 10% of doctors agree). As one focus group participant told us, "My doctor needs to understand my health worries–what keeps me up at night–just as well as she understands the results of my blood tests. They are both important to me and both impact my overall well-being."
The way boomers relate to their doctors is worlds apart from that of their parents.
Another focus group participant explained it this way: "My parents believed that a doctor's word was gospel. You didn't question it. Today, you need to be your own health advocate." Indeed, 70% of boomers say they regularly question doctor's orders, but only 29% say that their parents did the same.
When further comparing their generation with their parents' (figure 2), boomers are:
Over four times more likely to actively research health information (79% vs. 18%)

Two-and-a-half times more likely to be proactive about their health (75% vs. 30%)

Less than half as likely to think of their doctor as an authority who gives them a plan to follow (21% vs. 52%)

Twice as likely to view their doctor as a partner – an ally who works with them to optimize their health (46% vs. 23%)
Figure 2: Boomers' view of their own generation vs. their parents' generation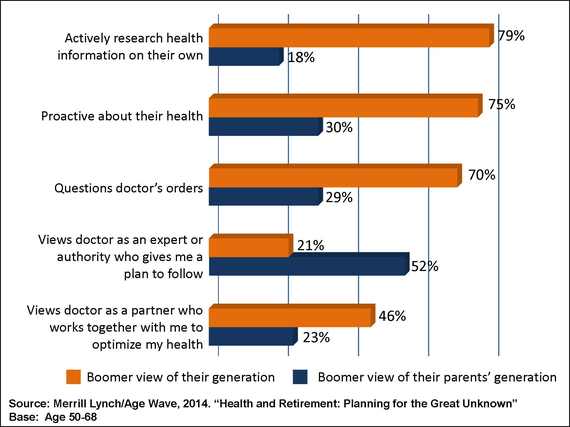 The Health/Wealth Convergence: The Missing Link in Retirement Planning
Most retirement planning focuses on savings, pensions, 401(k)s, and great post-work places to travel or live. However, people age 50+ identify health care costs as their biggest financial worry in retirement. This is where the issues of health and wealth converge in retirement (see figure 3), which is why it's wise for your retirement planning to include health and health costs as key ingredients.
Of course, planning for health costs can be hard, since so much is unknown about your future health status. When we probed this issue in focus groups, people expressed sentiments such as, "It's the uncertainty," "How can you plan for health care when you don't know what will happen down the road?" and "There are so many unknowns."
Figure 3: Greatest retirement financial worries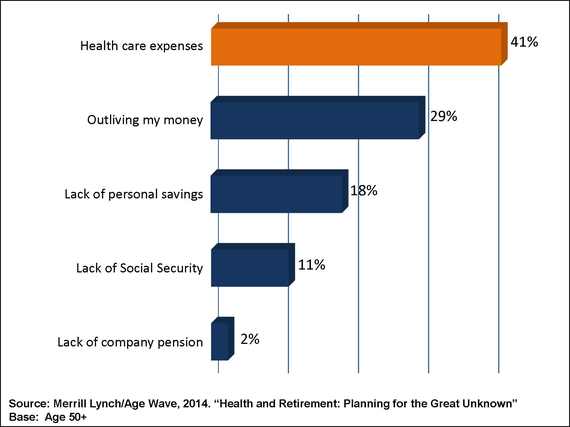 Health challenges can present a double threat to your retirement financial security. First, health insurance and out-of-pocket health care expenses can be unpredictable and costly, potentially shrinking retirement savings, and today's pre-retirees and retirees can count on less help from employers when facing health care costs. (Twenty-five years ago, two-thirds of large companies offered health benefits to retirees; now, just one-third of these companies offer retirement health benefits.) Second, unexpected work leaves or early retirement due to health problems can reduce earning years and retirement savings potential; retirees say health problems are now the top reason for early retirement (see figure 4).
 
Figure 4: Reasons for early retirement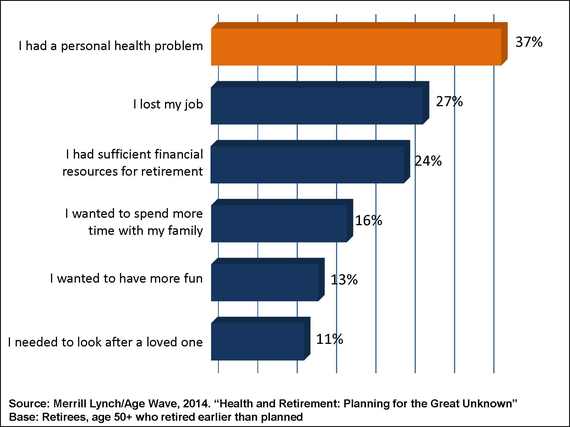 Clearly, planning effectively for health and health care expenses is the missing link in holistic retirement planning. Yet most people feel that the information they receive from the government and/or insurers can be overwhelming and confusing. A mere 7% of people age 55-64 say they feel very knowledgeable about Medicare coverage options. And among actual Medicare recipients, only 19% say they feel very knowledgeable about Medicare.
As Andy Sieg, Head of Global Wealth & Retirement Solutions for Bank of America Merrill Lynch observes, "This research provides an important wake-up call for everyone involved in helping people plan for this next stage in their lives. Respondents are telling us that this is not a do-it-yourself project. They are seeking clear information and trusted resources to help them figure out how to plan for health care costs in retirement."
Key Steps to Take for a Healthier, More Financially Secure Retirement
Survey respondents told us that maintaining health and preparing for future health care expenses are most important for a happy, fulfilling, and financially secure retirement. Further, this study revealed important steps everyone can take, including:
Invest in your health by maintaining healthy lifestyle habits and strong social connections. Even when started later in life, these can both significantly improve well-being and vitality during your retirement years.

Educate yourself about Medicare, including new preventative care and recent eligibility changes for therapy and home care. While you're at it, estimate out-of-pocket health care expenses such as insurance copays and Medicare premiums.

Discuss critical retirement health and health care topics and decisions with your spouse/partner, along with other family members and trusted advisors. (Our study revealed that less than a third of married pre-retirees age 50+ have discussed these important topics with their spouses.)

Create contingency plans for unexpected health problems and health care expenses for yourself, your spouse, and even other family members. This might feel challenging, but doing so can ultimately give you greater peace of mind.
Boomers have a take-charge attitude toward their health and health care, so this list can serve as a guide for that proactive management of lifelong health and the associated costs. These practical steps can help protect your health and wealth in retirement.
Stay tuned for part two of this series, posting tomorrow. I'll describe the four different HealthStyles of boomers and discuss what makes each one tick.
Earlier on Huff/Post50:
Just the opposite, in fact: a 2009 Pew Research Survey found that "the older people get, the younger they feel, relatively speaking." Researchers observed a gap between chronological age and "felt age" that grew wider as people grew older, with nearly half of respondents 50 and older reporting that they felt 10 to 19 years younger than their chronological age.

"The deficiencies of a middle-aged brain have likely been overstated by anecdotal evidence and even by some scientific studies," reports Melissa Lee Phillips in a 2011 article for the American Psychological Association's Monitor on Psychology. In fact, verbal and math abilities and spatial and abstract reasoning all improve in middle age.

Phillips also reports that as they age, brains may employ effective techniques to compensate for cognitive decline, such as the use of both hemispheres in solving problems (younger brains, in contrast, often use only one until confronted with a particularly challenging problem). The idea of cognitive reserve has also been getting some buzz lately–that although all brains may atrophy, bilingual brains, for example, seem to be effective at resisting the effects of aging and degenerative conditions such as Alzheimer's, as a result of the workout they've been given over the course of a lifetime.

"Recent studies and surveys show the brains of those well over 60 yeas old want and enjoy sex," observes Judith Horstman in her book, "The Scientific American Healthy Aging Brain." She points to a national survey of men and a women between 75 and 85, where three-quarters of male respondents and half of women respondents said they were still interested in sex and still sexually active.

Making positive lifestyle changes, such as quitting smoking, can still have an impact on health, no matter how late the changes are implemented.

For example, older smokers are wrong to believe that "they are too old to quit or too old to benefit from quitting," according to a recent report summarizing a number of studies on the subject. Judith Horstman further asserts in "The Scientific American Healthy Aging Brain" that "starting an exercise regimen later in life can pay off in brain benefits even when some cognitive decline has already set in," citing research conducted in 2010 on the effects of a mild walking routine on previously sedentary adults.


In fact, many people view midlife as their happiest period. Several surveys have found that while happiness dips in the 40s, people start to feel more content with life after the age of 50, and a study recently published in the Journal of Economic Behavior and Organization found that people are "at their happiest at retirement age."

"While getting older is the strongest risk factor for osteoporosis, many elderly individuals never develop the disorder," observes Robert H. Shmerling, M.D. of Harvard Health Publications, in an article for MSN Health.

Several studies have concluded that an empty nest actually allows for increased marital satisfaction, as reported by The New York Times. Far from being lost and depressed, many "empty-nesters" enjoy the uninterrupted quality time they now have the opportunity to share.

Gone are the days when the adult brain was assumed to be a stagnant entity: the idea of neuroplasticity, or "the [adult brain's] ability to change its structure and function in response to experience," has become widely accepted in scientific circles and is seeping into popular culture. Particularly exciting is the idea of "self-directed neuroplasticity," or the power of thought to re-wire the brain, as observed in Buddhist monks.

In other words, you can too teach an old dog new tricks.

While social isolation is a serious issue amongst many housebound elderly, they are often more socially adept than younger people. "As we get older, our social intelligence keeps expanding," Dr. Margaret Gatz, professor of psychology, gerontology, and preventive medicine at the University of Southern California, told O magazine. "We get better at sizing up people, at understanding how relationships work–and at not getting into an argument unless we mean to."

Not only that, but socializing may well be the best thing to do for an aging brain, according to Horstman, as it decreases stress and the perception of pain, among other health benefits.

"One may have greater personal control over one's biopsychosocial health after retirement than previously recognized," concluded a study conducted over a 60-year period, published in the American Journal of Psychiatry. After studying the lives of more than 500 people, researchers found that "successful aging" was largely dependent on seven factors within an individual's control, to a degree: alcohol use, whether or not they smoke, marital stability, exercise, body mass index, coping mechanisms, and education. Successful aging was defined as including good physical health/absence of irreversible physical disability, longevity, evidence of social supports, and good mental health, as well as subjective assessment of life enjoyment and ability to complete the tasks of daily living. So although aging is inevitable, aging well is not only possible but within our power.